Facebook has pictures of past litters
Graceful Golden Paws | Facebook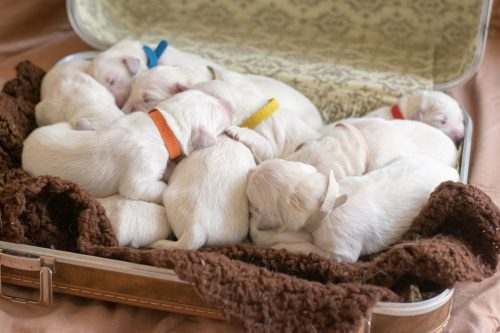 Jo and Molly have a repeat pairing with Winston.
Graceful Golden Paws | Facebook
Frequently Asked Questions:
Do you do any supplements for you dogs? 
Yes, the Mom's get prenatal vitamins by Breeders Edge "Oxy Mate" then once they have puppies, they get switched to "Oxy Moma.  During Pregnancy and while puppies are nursing all our Mom's get Probiotics and Prebiotics.   The dogs also get vitamins year-round for maintenance.  We will begin to give all the puppies nuvet supplements when they begin solid foods.  We recommend you continue that for the first year of life to help get the puppies well started.
When do you start puppies on solid food?
Puppys are usually on soften blended food by 4 weeks.  They will be weaned onto the Purple bag "Victor" brand dog food.  But they will be allowed to continue to nurse depending on the Mom's preference.  Sometimes that might mean they still get to nurse once or twice a day up until they are 8 weeks.  But they will be eating well on their own much sooner than that.
What about litter training are they potty trained when they come home?
Potty training is a process, but the puppies are well started when they go home.  We start litter training the litter as soon as the puppies can walk around.  We use livestock pellets that are made of sawdust and they puppies immediately will associate that with the outside.  It is not a guarantee but many of our puppies when raised this way will go home already basically potty trained.  We highly recommend using crate training with your puppy.  We can't say enough about our experience with litter training.  It has truly been a game changer for us.
Does our deposit go toward our total purchase price?
Yes, you deposit is holding your puppy until pick up as well as your place in line for when you get to make your puppy selection.  We will turn other potential families away to hold your puppy.  So, the deposit once placed is non-refundable.  The deposit amount then is applied to the total price when you pick up your puppy.
What about microchipping?
Your puppy will come with the microchip already done.  You will just need to register that with a pet registry.  We will give you some recommendations in your paperwork.  We do highly recommend AKC reunite.
What about vaccinations?
Yes, your puppy will have received their first round of shots.  You will need to continue the series to have your puppy fully vaccinated.
Has my puppy been checked out by a veterinarian?
Yes, your puppy will be given a thorough exam by our vet.  You will also receive a free vet exam and your first 30 days free with Trupanion a pet health insurance program.
What do you recommend for training?
We partner with Baxter and Bella online dog training becasue it can be available to everyone. You puppy will come with a discount to use their program.
Please fill out a puppy inquiry to help us get to know future families.  Deposits can be placed to hold a puppy until pick up.
Puppy picks happen in the order deposits come in.